Emperor Doviculus



Position

Leader

Enemies

The Nonsense Squad

Power

N/A

Weapons

Anti-Spoon Staff The Hydra

Alliance

Sense Squad

Likes

Evil, Darkness, World Domination, Forks, Music, Heavy Metal,

Dislikes

Justice, The Nonsense Squad, Spoons, People playing out of tune, time, etc.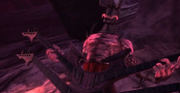 Emperor Doviculus is the main enemy of the Nonsense Squad. He is on the Fork side, carries an anti-Spoon Staff, and has a fork fused into his forehead. Doviculus is currently in disguise as a band director, attempting to thwart the Nonsense Squad. He spends most of his free time on the Database of Evil. Doviculus has recently obtained a new weapon to thwart the Nonsense Squad, The Hydra. It is a quad-necked guitar that is very deadly. Only other musical instruments can protect the Nonsense Squad from this weapon.
Community content is available under
CC-BY-SA
unless otherwise noted.