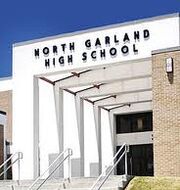 People
[
]
Date
[
]
January, 28, 2012.
Time
[
]
0900 am - 1200 pm.
Location

[

]
Talsra's Lab, located in North Garland High School.
Enemies
[
]
Talsra
Mission
[
]
Investigate Talsra's Lab in search of Brick's Golden Spoon, which has strangely gone missing. Possibly get some extra credit while there.
Brick
[
]
Arrived at 0900 am. Snuck in through back door, acquired pancakes, and met up with Diaper.
Diaper
[
]
Met Brick and caused distraction for Brick to sneak inside lab, through a strange torture chamber full of vials and cages. Brick unlocks door, and they begin working on sinister challenge in order to defeat Talsra.
Towel
[
]
Arrives at 0930 am. Meets Brick and Diaper stuck in complex situation. Solves riddle, and prepares to approach Talsra. After completing the challenge, the trio approaches Talsra, who is frozen in shock at their accomplishment. Student Nick constructs bomb, and sets it off. Brick, Towel, and Diaper escape, but ally Nick sacrifices himself. Talsra presumed dead.
Ranking
[
]
B - Mission accomplished, but ally slain.
Notes
[
]
Diaper's first mission.
Pancakes very delicious.
Sink made a cameo appearance.